Nerudova street (Nerudova Ulice) is a beautiful ancient road, part of the famous Royal Way, the route the Czech Kings used to follow during their coronation parade. It is one of Prague's streets most visited by tourists who walk from Charles Bridge to the Prague Castle.
Nerudova used to be called Ostruhová until the end of the 19th century when, after the death of Jan Neruda, it was renamed after the Czech writer, who lived in this street for many years, first at n.47, the "house of the two suns", then at n. 44, "the three black eagles".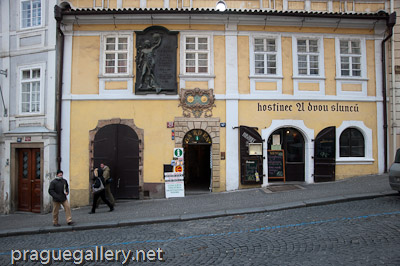 Before house numbering was established, Prague houses were identified by symbols displayed above the entrance. Ian Neruda's "At the Two Suns" is just one of the most famous. Another well known house emblem is "At The three Fiddles". It identifies a house, n. 12, where once lived three families of violin makers. The 17th century Czech painter Petr Brandl was born in the house marked with the Red Lion.
Morzin Palace (Morzinsky palac), named after Count Morzin who bought it in 1668, houses the Romanian embassy. The palace was reconstructed in 1713 by Prague born architect Jan Santini Aichel while he was living in the house on the other side of the street, Valkounsky House.
Jan Santini also built the Thun-Hohenstein Palace, now used by the Italian Embassy. The eagles decorating the portal were made by Austrian sculptor Matthias Bernard Braun who lived and worked in Prague.
Bretfeld Palace, at n. 33, is a rococo style house where Josef of Bretfeld organized social gatherings. It is said that Mozart and Casablanca were among the guests. High on the facade there is a relief of St. Nicholas created by Ignaz Platzer.
Below are a few more famous Nerudova house signs: 'At the golden cup'…
… At the Red Ram …
… and 'At the Golden Horseshoe'.
A few more images of Nerudova Ulice are in the Nerudova gallery page.